Research Project Details
| | |
| --- | --- |
| Project Title: | Geographic analysis of habitat change for endemic animal species of Puerto Rico |
| Investigator(s): | Jessica Acosta (Geog-PSU), Robert P. Brooks (CWC/Geog-PSU), William A. Gould (USFS) |
| Sponsor: | U.S. Forest Service – Puerto Rico-Gap Analysis Program |
Research Project Objectives: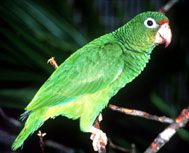 The research examines the spatial and temporal changes of the geographic distributions of 56 vertebrate terrestrial endemic species using geospatial data from the Puerto Rico-Gap Analysis Program. Species habitat models have been created to predict habitat extent for the years 1977, 1991, and 2003 using Geographic Information Systems (GIS) and land cover maps. The habitat change for each species will be evaluated, as measured by land cover change to determine what species are most vulnerable to change over time. A landscape pattern analysis will be done to quantify the differences in available habitat on unprotected and protected areas for each year. This research will enhance ongoing conservation efforts, such as prioritizing the restoration of endemic species on the island.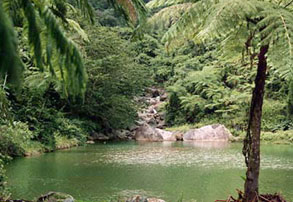 Progress Report: 
The research is still in the data analysis/interpretation phase, with the expected research completion date for summer 2007.
Products:
Presentation at the 2007 AAG Annual Meeting in San Francisco, CA (April, 2007)
Distribution of Anolis occultus(Puerto Rican pygmy anole)
This slideshow requires JavaScript.